Load bank
Description
Load banks are designed to connect active load to the test equipment and for smooth control of the connected load. Load bank is a test bed for connection of active load to the rated voltage of 380/220 V with 50 Hz frequency. The bank has three inputs, depending on the power of the connected load. Digital electric measuring instrument with switching to a required input in low-voltage complete device is installed in the bank to control and display the electrical network parameters. There are three sections for connection of the load and a box for smooth load control in the bank. Electric heating tubes and block of filament lamps are installed as an active load. For additional connection of active load outlets are provided. The bank is provided with forced ventilation system and load remote control system.
Functions
– Load control;
– Use in power systems at 1F and 3F throws;
– Has a monitoring system.
Application area
Load bank is used in electro technical laboratory (ETL), points, units of entry control and outgoing control of the manufacturers.
Certificates
Load bank is made in accordance with technical regulations of the Customs Union TR CU 004/2011 "On safety of low voltage equipment" approved by the decision of Customs Union Commission №768of 16.08.2011, the Technical Regulations of the Customs Union TR CU 020/2011 «Electromagnetic compatibility of technical means" approved by the decision of Customs Union Commission №879 of 09.12.2011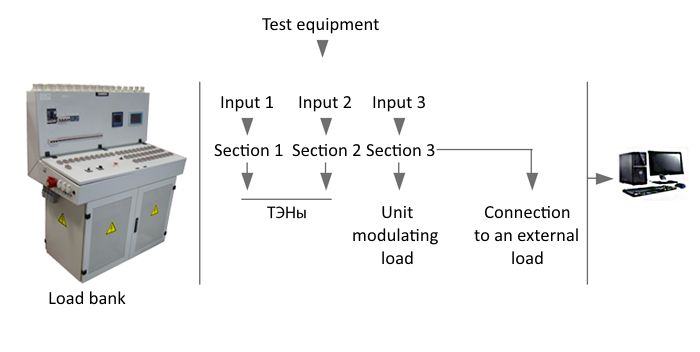 Specifications
Cabinet for low voltage complete device "Load bank" is designed for organization of active load with a capacity of up to 130kW.
Parameter name

Value

Rated power, kW

(380 V)

Section 1

130

Section 2

50

Section 3

10

Rated power, kW

(220 В)

Section 1

44

Section 2

17,6

Section 3

4,4

Smooth control, kW

380V circuit

3

220V circuit

1

Load type

Active

Power factor

1

Rated operating voltage, V

380/220

Version

IP20

Cooling

Forced, air

There are the following protection devices at the input of loading device

Against loss of air flows, fans stop

Dimensions (HxWxD), mm

1770х1400х773
Up