Description
Operative direct current cabinet (OCC) is designed for uninterruptable power supply of the most important consumers if the power is disconnected by an automatic connection of reserve power supply - batteries. After the restoration of the connection with the main source of power, operative current cabinet OCC ensures automatic charge of batteries along with consumers supply.
Certificates
The certificate of conformity №0329665 issued by the certification body OOO "RADIO-FIZICHESKIE TESTOVYE TECHNOLOGII"
Application area
Petrochemical industry; paper and metal mining industry; metallurgy and mechanic engineering; TPP facilities and the energy industry; airports; port facilities; communication centers of telecommunication system; medical institutions; distribution points for supply of operative circuits of relaying and automation schemes.
Features
The most important customers are: centers with contactor and microprocessor technology, measurement and adjustment devices, drives and control systems. DC cabinet OCC maintains constant DC voltage at the output of the system, and charges batteries. If the power is disconnected OCC cabinet maintains a constant specified load for a specified time. Disconnection is ensured by contactor (protection against deep battery discharge) when the battery voltage value is 184 V.
Incandescent lamps, indicating the status of the cabinet, and pointer voltmeter, indicating the output voltage, are installed on the front panel of the cabinet. All parameters can be controlled by the control unit. Settings are displayed on the controller display, or they can be viewed using a PC.
Functions
- Receives auxiliary AC electric power from two or more independent sources and converts it into DC electric power;
- Input DC electric power from the rechargeable battery, automatic charging and recharging of battery from rectifying modules;
- Distributes DC electric power between consumers;
- Continuous automatic control of voltage value on buses with generation of signal on the deviation of DC network;
- Continuous automatic control of DC network insulating resistance with respect to "ground" with generation of signal on the sustained decrease of insulating resistance below the permissible value;
- Selective protection of incoming and outgoing lines against surge currents and short circuit;
- The possibility of combining the buses, different sections and OCC cabinets via disconnect devices;
- Formation of the tie of "blinker light";
- Measurement of the basic parameters of the current battery state (voltage, charging-discharging rate);
- Generation of generalized warning signal in case of tripping event, loss of voltage at DC buses, loss of voltage in rectifying modules, etc.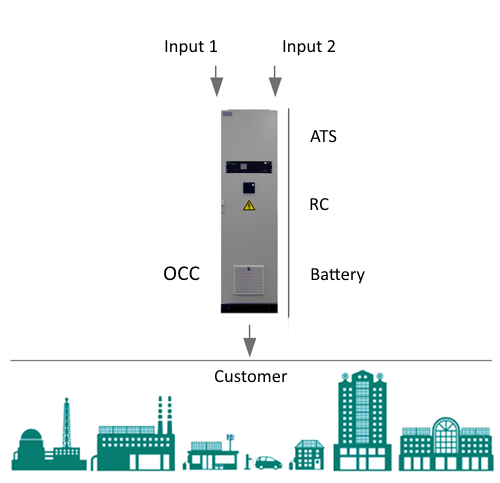 Specifications
Parameter

Value

Input parameters:

Rated voltage

208 to 240V AC

Operating voltage

176 to 320V AC

Minimum voltage

150В АС

Input frequency

from 45 to 66 Hz

Power factor

> 99%

Efficiency

> 94%

Output parameters:

Number of automatic outgoing feeders

According to the technical specifications or wish list

Number of sections

According to the technical specifications or wish list

Output current range, when using a 1 kW modules

from 5 to 495 A

Output current range by using modules 4kW

from 20 to 1980А

Output voltage

from 24 to 220V DC

Output power of one module

1000 W/module and 4000 W/module

Output current of one module at 220V DC

5A (1 kW/module)

20A (4 kW/module)

Number of parallel modules

Up to 99 modules

Voltage regulation:

Static

< +/-0.5%

Dynamic

<+/- 2% when the load changes from 10% to

Recovery time

2ms

Line regulation:

Static

< +/-0.1%

Dynamic

(for any changes within input voltage range)

< +/-1%

Psophometric noise

< 26dBrnC (<0.5mVrms)

Broadband noise

< 5mVrms; < 100mVp-p

Rechargeable batteries:

Warranty period for battery

from 5 to 15 years

Battery capacity

According to the Technical specifications or wish lists

Terminal connection

front

Version:

Ingress protection rating according to GOST – 14254

up to IP 54

Climatic performance according to GOST 15150

boreal climate (УХЛ4)

Group of mechanical performance according to GOST 17516.1

М6