Parameter name

Value

Basic technical data

Rated operation voltage

AC, V

380

Rated current, A

320

Frequency, Hz

50

Degree of protection according to GOST 14254

IP41

Climatic version according to GOST 15150

УХЛ4

Isolation resistance, MOhm

More than 500

Type of isolating according to GOST 51321.1

1

Installation data

Dimensions, mm HxWxD

2100х600х600

Materials intensity, kg

In accordance with rating plate

Input of electricity network cables

at the top

The output of cables of consumers' outgoing lines

At the bottom/at the top

Type of design

Cabinet

Installation method

Floor-standing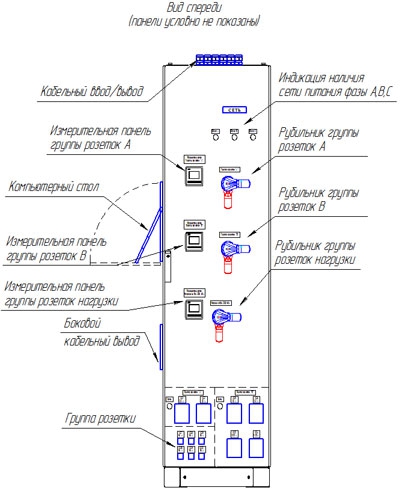 There is a multifunctional three-phase electrical measuring instrument on the external part of engineering panel, which allows to measure voltage, current, power, frequency, power factor and electric energy. Cutout switches, which can be connected to separate groups of outlets. Indication of the network availability, determines the availability of the network in A, B, C phases. Group of outlets for connection of equipment. Also there is a table for PC at the stand. Incoming circuit automatic device and counter is inside the engineering panel.