Description
Rectifier chargers (RC) - are part of the Operational DC voltage systems and are designed to:
- Charge, recharge and control accumulator battery status (hereinafter - AB ), used in assembly with operational DC voltage system or autonomously;
- supply power to DC current-using equipment: protection circuits, automation and telemechanics, remote control equipment, alarm and warning system.
Advantages of RC
- Compliance with the requirements of basic industrial and government standards;
- The use of modern microprocessor and power element base of leading manufacturers;
- A wide range of input and output parameters;
- High safety indicators and electromagnetic compatibility EMC;
- One can use both domestic and imported components;
- Complete remote monitoring and control of transformer.
Application area
Rectifier charger RC is designed for the uninterruptible DC power supply (from 20 to 2000A) of essential power consumers in energy area with rated voltage of 110 / 220V (optional from 6 to 800V).
The most important customers are: power plants and transformer stations, chemical plants, oil refineries, offshore platforms, oil and gas pipelines, operating current system on the railway sector.
Functions
- Flexibility of the designed systems;
- Wide range of current and voltage ratings for RC;
- Equipment and systems line based on RC covers all circuit solutions for power stations and substations;
- Automatic duplex charge for all types of batteries;
- Manual compensative charge for maintenance of batteries;
- Temperature compensation of AB voltage charge provides automatic control of AB charge output voltage depending on the room temperature, where AB is used;
- Current sharing (AB) with equal distribution of the output current between products;
- Management of external protection against deep discharge of AB;
- Ground insulation resistance control of DC main buses on the "ground". Operating value - from 5 to 150kOhm;
- Automatic blocking of the rapid and compensating charge in case of ventilation isolation – blocks rapid and compensating modes for AB charge in case of ventilation disconnection in the room, where it is used;
- Automatic reclosing with the recovery of all parameters and operating modes;
- Both black-and-white LCD and color touch screen can be installed;
- Full local monitoring and control;
- Full remote monitoring and management from computer-aided process control (CAPC).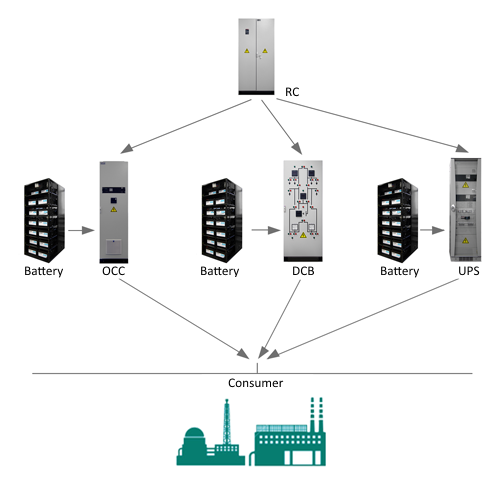 Main Specifications
Input parameters

Number of inputs

According to the requirements (1 phase/3 phase / = constant voltage)

rated input voltage

220/230/380/400/415 V (optional from 36 to 800V ~or=)

operating voltage

150 to 320V AC

Input frequency 0

From 40 to 72Hz

Power factor

>0,99

Efficiency >

>95%

Output parameters

Number of automatic outgoing feeders

according to requirements

Number of sections

according to requirements

Output current range

from 20 to 2000A

Output voltage

110/220V DC (optionally from 6 to 800 V DC)

Voltage regulation:

Static

<+/-0,1%

Dynamic

<+/-3% when the load changes from 10% to 100%

Recovery time

1ms

Accumulator batteries

Warranty period for battery

from 5 to 20 years

Battery capacity

According to the requirements

Version

Ingress protection rating according to GOST – 14254

up to IP67

Climatic performance according to GOST 15150

boreal climate (УХЛ4)
Type designation for RC system
SOP-YYXX/XXX-X Designation RC
SOP-YYXX/XXX-X Modularity and type of version
SOP-YYXX/XXX-X Rated current
SOP-YYXX/XXX-X Output voltage (6,12,24,48,125,220,440,500,660,800V)
SOP-YYXX/XXX-X Dispatching