ACB protection
Description
ACB protection is designed to protect accumulator battery (ACB) against the short-circuit currents in the DC circuit (including cases of deep discharge of ACB). Protection is ensured by breaking the DC circuit if the current in it exceeds the permissible level. It is installed at 19 " rack.
Application area
Systems of uninterruptible power supply, where batteries are used as a redundant power supply; in DC systems; in operating DC supply systems.
Functions
- power shifting;
- Manual emergency shutdown;
- status control of fuses¹.
1 is installed optional
Certificates
Produced in accordance with TU 3430-007-61938140-2014 and complies with GOST R 51321.1-2007, GOST R 51732-2001 (IES 60439-1-92), as well as with TR CU 004/2011 "On safety of low voltage equipment" and TR CU 020/2011 "Electromagnetic compatibility of technical means".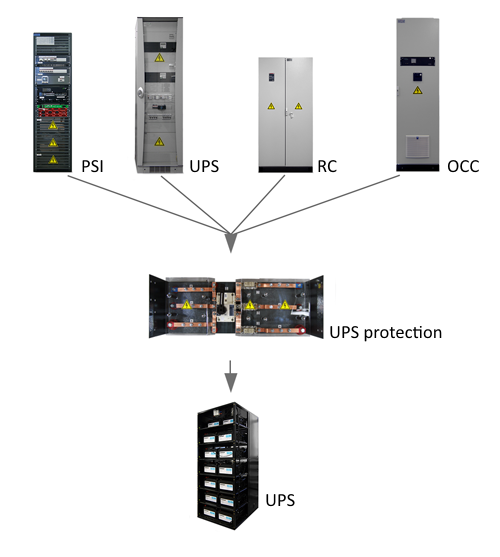 Basic specifications
Rated voltage range, Fixed, V

400, 500, 600

Rated current of one line, A

100, 125, 160, 200, 250, 315, 400

Number of lines in ШЗБ

From 1 to 19

Protection level according to GOST 14254-80

up to IP55

Ambient temperature:

from -15°C to +40°C

Relative humidity,

at the ambient temperature +25°C

no more than 80%

Air pressure

From 630 mm of mercury to 800 mm of mercury

(from 84,0 kPa to 106,7 kPa)
* Specification value can vary depending on other parameters
Up